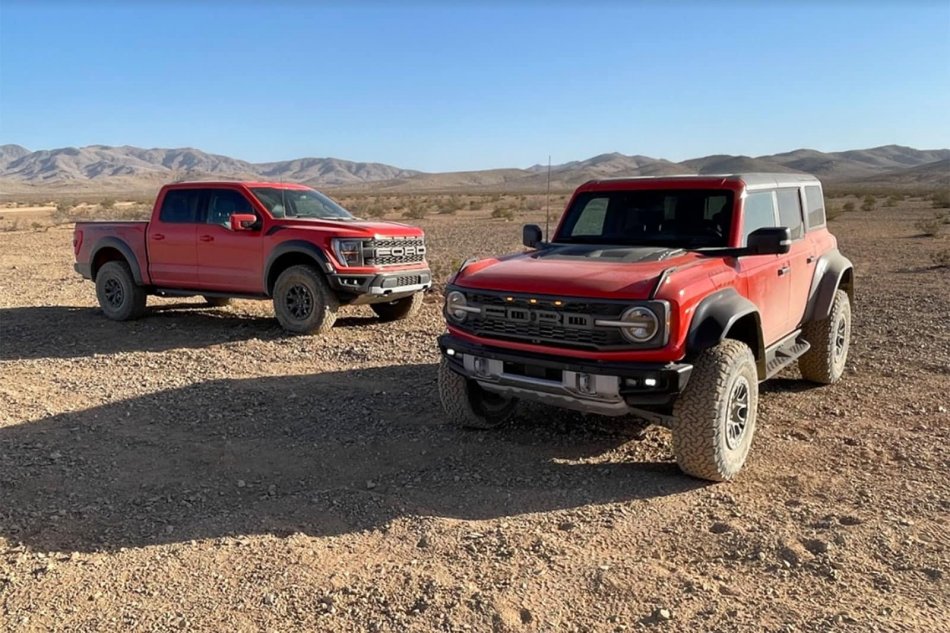 Will the real Raptor please stand up?​
It's an interesting thought experiment: If money is not in question and you want the ultimate Ford-branded off-road vehicle, what should you get? Do you opt for the new-for-2023 F-150 Raptor R, the V-8-powered, king-of-the-hill, Baja-style supertruck with an engine out of the Mustang Shelby GT500? Or do you opt for the more compact, smaller, less powerful but potentially more maneuverable new-for-2022 Ford Bronco Raptor SUV? Each has their pros and cons, their strengths and weaknesses, but they're both the ultimate off-road version of that nameplate's lineup, and given their Raptor monikers, you
know
that either of them is going to be massively capable in the dirt.
So, it's a valid question: Which is the better off-roader? Or more specifically, what does each of them do better than the other? Ford invited us to the Holly Oaks Off-Road Vehicle Park just north of Detroit in late 2022 to drive them back to back, and we intended to find out.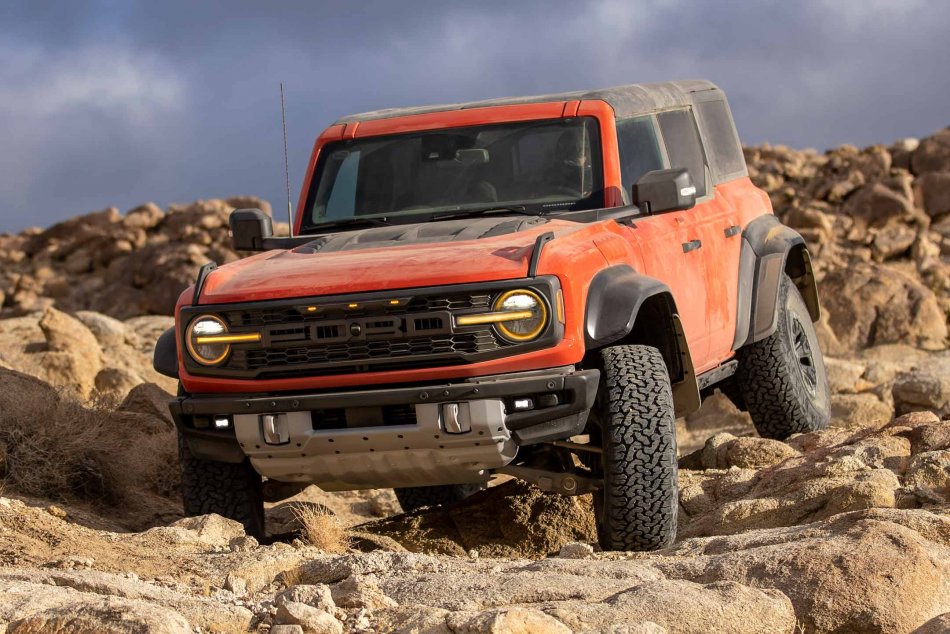 Ford Bronco Raptor: The More Subtle Newcomer​
The new kid in this pairing is Ford's Raptorized version of its smash-hit Bronco off-roader. The most obvious advantage here is that you can take the top and doors off, whereas you can't in the F-150 Raptor without the aid of a Sawzall — so if open-air motoring is your main priority, the Bronco is your only choice. (Thanks for reading, have a great day!) But we're more interested in seeing how these two stack up when being used as off-roaders, not lifestyle vehicles. Plus, it was 32 degrees and windy on the day we tested both of them, so the top and doors stayed in place.
The two actually share a remarkable number of off-road bits: They both use the same brakes, the same Fox 3.1-inch internal-bypass shock absorbers (tuned to each vehicle, of course) and share a significant number of suspension parts. They even have very similar suspension travel: 13 inches up front and 14 inches in the rear, due partly to the same massive BFGoodrich All-Terrain T/A KO2 37-inch off-road tires that each use. Overall, there's a lot of F-150 Raptor under the skin of a Bronco Raptor, and it shows in how the vehicle operates in the dirt.
The biggest differences to consider are dimensions and powertrain, with the first immediately evident when you see them side by side. The Bronco is a significant 41.6 inches shorter than the F-150 Raptor R and has a wheelbase 28.9 inches shorter. Width difference is interesting, though: While the Bronco is around 9 inches narrower mirror to mirror, its "track" width (the distance between the left and right wheels) is only around an inch less in front and less than an inch in back.
What all this means is that the Bronco Raptor is more able to go rock crawling thanks to its much more usable approach, breakover and departure angles. Pull up to an obstacle, and you have an approach angle of 47.2 degrees in the Bronco Raptor versus only 33.1 degrees in the F-150 Raptor R. Breakover gives the Bronco a similar advantage: The shorter wheelbase allows for a 30.8 degree breakover angle, versus 24.4 degrees in the F-150 Raptor R. It's the same with departure angle: 40.5 degrees for the Bronco, just 24.9 degrees for the F-150.
The Bronco can scale things the F-150 struggles with, and if high-zoot, cross-country Baja-style speed is not your biggest priority, the Bronco Raptor might be a better fit. One Ford engineer told me at the drive event that the F-150 Raptor R's unofficial motto is, "If it fits, it goes," meaning that if there's room for the bulky pickup to squeeze through, it'll handle whatever gets thrown at it. But it's safe to say that the Bronco Raptor fits in
more
tight spaces than the F-150 Raptor R does.
That dimensional difference also shows up inside, where the Bronco Raptor features noticeably tighter confines than the far more spacious F-150 Raptor R. It makes sense; the Bronco is based on a mid-size truck platform that is rumored to also underpin the next-generation Ranger pickup, while the F-150 Raptor R is built off of a full-size crew-cab pickup, so you'll be a bit tight in a Bronco with not nearly as much width in either row, nor legroom in the backseat. On the plus side, you have a covered, secure (provided you opt for the hard top), weather-tight cargo area instead of the F-150 Raptor R's open bed. Again, this mostly comes down to what you plan to do with your Raptor. Need space inside and dry cargo storage? The Bronco looks like a better option. Got some muddy gear you'd rather throw in the bed, plus more people to haul around in better comfort? The F-150 Raptor R is the better choice.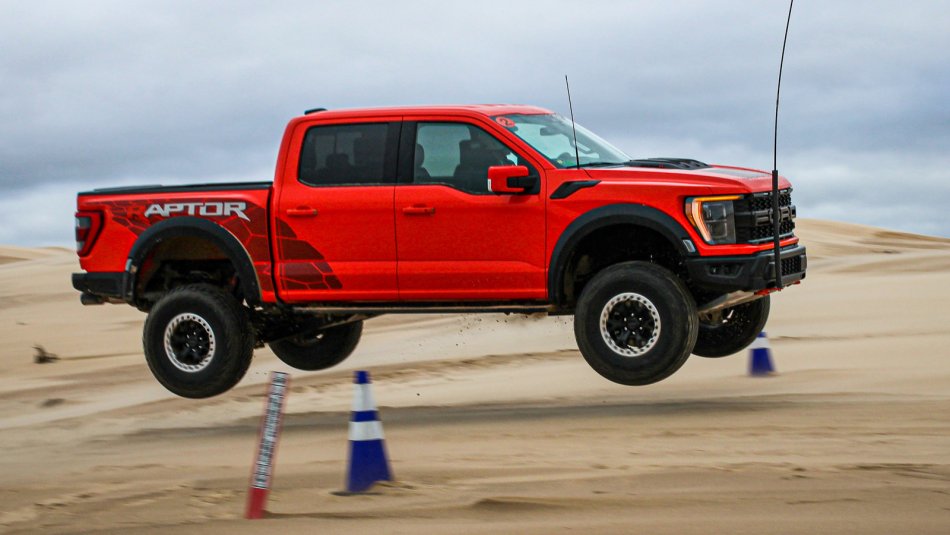 Ford F-150 Raptor R: The Mudstang​
The other big difference between the two trucks that I mentioned earlier is powertrain — and this is a
big
difference. The Bronco Raptor features a powerful twin-turbocharged 3.0-liter V-6 pumping out a stonkin' 418 horsepower and 440 pounds-feet of torque. It's a bigger, more powerful version of the 2.7-liter EcoBoost V-6 that's the optional engine in less outrageous Broncos. It's mated to a 10-speed automatic transmission that works with a two-speed transfer case and a part-time four-wheel-drive system with an automatic 4WD setting. The result is a rorty, snorty, responsive SUV that can blast over scrubby terrain or crawl over slippery rocks and loose trails with ease.
But what if you want something more … visceral?
That's where the Ford F-150 Raptor R comes in with its bonkers engine. It's 5.2 liters of supercharged V-8 engine cranking out 700 hp and 640 pounds-feet of torque. If that sounds familiar, it's because
you've seen a version of this engine before
in the Mustang Shelby GT500, and it's no less mental here than it is in that two-door track machine. It's also a direct response to the
Ram 1500 TRX's
supercharged Hellcat V-8 engine, a punch right between the eyes of that equally insane off-road truck.
As an alternative to the Bronco Raptor, the F-150 Raptor R is a more curious choice. It's just as easy to drive off-road as the Bronco Raptor, but it indeed does not fit in the same places. Yet what it lacks in finesse, it more than makes up for in brute force — mash the accelerator pedal on
any
surface and the massive pickup rears up on its haunches and just
flies
forward at alarming speed, making grin-inducing sounds. Disengage the traction and stability control to drift the thing around your favorite sand dunes with ease, jump over rises with aplomb or blast over rutted scrub with astonishing smoothness.
This is not to say the Bronco Raptor is slow. But its turbocharged power arrives with less of a screaming, thunderous rush, as the F-150 Raptor R has a significant power-to-weight ratio advantage since the curb weight of the two trucks really isn't all that different: The Bronco Raptor weighs in at 5,731 pounds, while the F-150 Raptor R comes in at 5,950 pounds. Just 219 pounds difference for a huge supercharged V-8 engine, all that extra room inside, and the added ability to tow almost twice as much as the Bronco Raptor can (8,700 pounds for the F-150 Raptor R versus 4,500 pounds for the Bronco Raptor). How can it be so close? Thank the F-150's almost entirely aluminum body structure; it pays dividends in so many ways, including performance like this.
Which One Is Best?​
Really not a fair question, that. They're both insane amounts of fun in the dirt in slightly different ways, but both display complementary strengths tailored to different purposes. The Bronco Raptor's a great higher-speed cross-country sprinter, but it truly shines when scaling objects and negotiating tighter trails. The F-150 Raptor R's bonkers powertrain, brutal acceleration, visceral sound and stunningly good high-speed off-road smoothness make it the champ for blasts across the sand and scrub — or when you need to tow a camper into the savannah. Either way, you're getting a truly remarkable piece of engineering and are almost certain to enjoy your ride.
Article By Aaron Bragman with cars.com
YouTube video courtesy of Edmunds.com