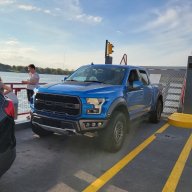 Joined

Jan 25, 2022
Messages

75
Reaction score

47
Location
Hello all,
My blood is still boiling so I thought I'd ask for opinions from my fellow forum members. It all started when I made a reservation for a Bronco in July, 2020. When the dealership I selected contacted me to come in and place the order I told them I wasn't ready because I hadn't even seen one in person, not to mention not having driven one. I told them to let me know when they get one so I would be able to see one in person, and then we would take it from there.
Fast forward to about September, 2021, and as I drove past the dealership on a Sunday afternoon I saw a Rapid Red Bronco on the lot, but no call from them. I stopped to check it out and found it to be exactly the Bronco I had spec'd with the addition of the roof rails. Two-door Base, Sasquatch package, modular bumper, auxiliary switches, top panel and door storage bags...you get the idea...lol. What is the chance they ended up with the same build? I stopped in a few days later and asked them about it. Of course it was all just a coincidence. I drove the Bronco, and they said they couldn't sell it until January, 2022.
I went back in December, 2021 to find that they sold the Bronco, but didn't want to go into any details as to how that happened when they said they couldn't sell it until January. I test drove a four door Bronco and told them I was still undecided between ordering a Bronco, a new Raptor (I have a 2019), or a Mustang. I know this sounds crazy, but I was looking for a new toy...lol. They didn't want to deal on anything, including the used 2019 GT350 they had in the showroom, so I walked. On
December 30, 2021
I bought a 2021 Mustang GT, California Special from a different dealer. I had it transported in an enclosed trailer, straight to a storage garage for a four-month nap.
January 24, 2022
, I received an email from Ford asking if I'm interested in using my Bronco reservation to order a Bronco Raptor. I replied within minutes that I am interested!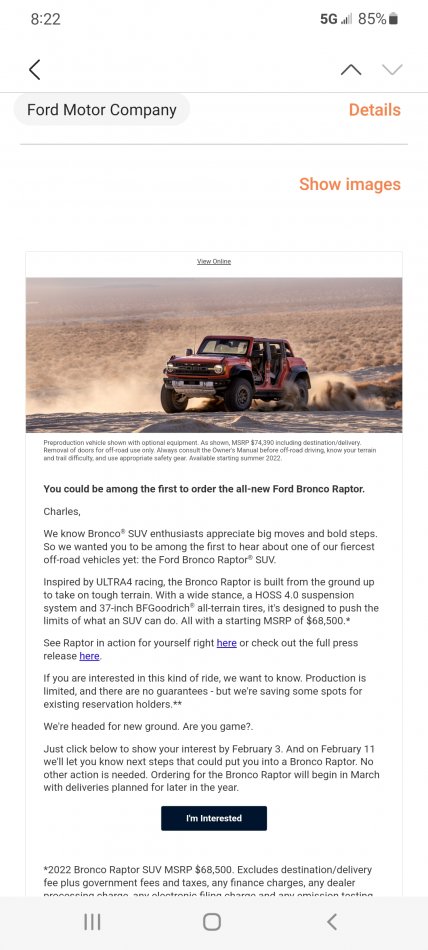 This afternoon,
January 29, 2022
, I received an email from Ford congratulating me on ordering a 2022 Bronco, Outer Banks.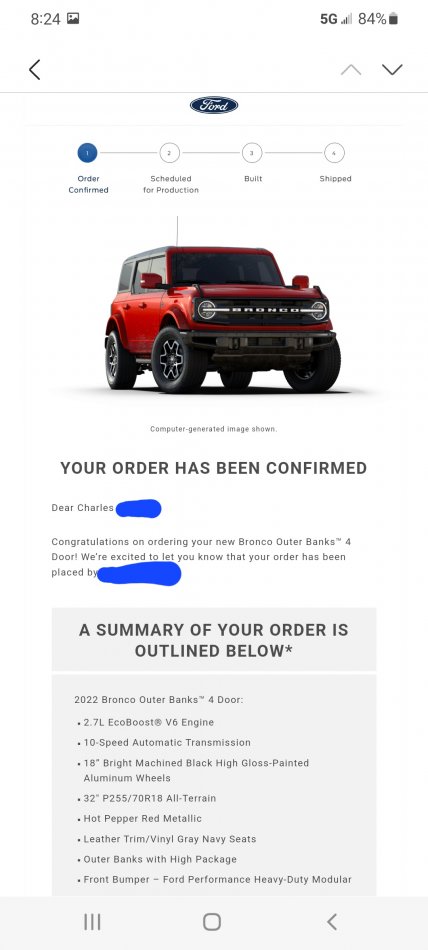 I immediately called the dealership and asked to speak with the General Manager. I ended up speaking with the Sales Manager and asked why I received the email saying they ordered a Bronco in my name. He said they had made a mistake and it was a priority 99, so it wouldn't matter. I told him about having recently replied to Ford that I wanted to order a Bronco Raptor, and that if they screwed-up that opportunity I would be very upset. He assured me it wouldn't, and commented on how it was a great that I received the email about the Bronco Raptor.
When we got off the phone I replied to the Ford email and explained that I hadn't ordered the Outer Banks Bronco and was waiting to order the Bronco Raptor. I asked for a reply to confirm that the dealership didn't mess up my chances at ordering a Bronco Raptor.
If you're still with me here, what do you think? Honest mistake, or stealership deception? Only time will tell if they screwed me over. I'm still Hot!!!
Last edited: